BEARING FRUIT,  Ministry With Real Results
By Lovett Weems and Tom Berlin, 105 pgs.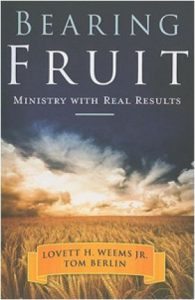 Reviewed by Babs Scott, Church Council Vice President

Bearing Fruit gives a biblical perspective of God's purpose for His Church. Although this book addresses the stewardship of leaders, it is an insightful read for the followers of Christ, not just the church leaders.  The authors address the ways of "being" the Church and explore what it means for each of us to be part of a mission-shaped congregation; they explain mission (who we are) versus vision (what we do).  The byline of the book is "Ministry with real results." The authors discuss faithfulness and fruitfulness of leadership as both being mutually important and relational to the life of all God's stewards; we must not be one or the other, but both at the same time.  The applications of this book are practical as well as theological. I strongly recommend this book to pastors, office and ministry staff, Church Council, LEAD, and all of you who desire to explore how God wants His Church to work for His glory.  If your spiritual gift is leadership, administration, apostleship, or giving, then this book is for you.  Lastly, I recommend this book to all aspiring young leaders in our congregation.
Click here for more information and reviews about this book