THE GOD GUARANTEE, Finding Freedom from the Fear of Not Having Enough
by Jack Alexander,  211 pgs.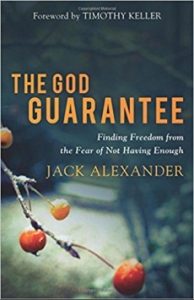 Reviewed by Babs Scott, Church Council Vice President

This book really spoke to me in my place of fear, gave me a better understanding of my place in God's world, and brought me to a new depth in my relationship with God.   The author gets down into the details of life and defines a practical way to live and see life daily when we let go of fear and live for God.  This text is based in the scriptures and written in a personal way.
This is a fast read; however, the author is direct, and, along the way, you may need to pause to reflect and digest what you just read. Each chapter asks you to pray and reflect on your faith life in the moment and score yourself; at the end of the book, you can compute your total score and post it to watch a short encouraging video.
I highly recommend this book, especially for those who are struggling financially, emotionally or spiritually. I think the content is accessible to all ages 10 and older.
Click here for more information and reviews about this book