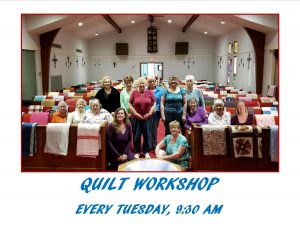 Quilters keep building quilts and friendships on Tuesday mornings.
We sent 198 quilts in November 2020. Lutheran World Relief notifies us where quilts go. Sometimes it is right away and sometimes we hear about quilts from years ago. New Life quilts have gone to Tanzania, Burkina Faso, Sierra Leone, Liberia, Zimbabwe, Uganda and many more countries. Our mission quilts provide comfort and warmth when the temperatures drop at night, shelter and many more things.
Come visit on Tuesday mornings. We need two pots now for 11:00 am coffee time. Come for coffee or to chat. Every half hour counts for another tied quilt. We love visitors, too!