YOUR SPIRITUAL GIFTS
God has given each Christian two vitally important gifts. The first is the gift of faith in Jesus Christ, his work of redemption, and thus forgiveness of sin. The second is the gift of one or more special abilities, which are to be used for the purpose of unifying the body of Christ and for the growth of God's Kingdom. These abilities are called spiritual gifts and they are received through our baptism. Like other presents, it is impossible to fully appreciate and make use of our spiritual gifts until they have been opened.
TAKE THE ASSESSMENT
The assessment for adults is online and takes about 7 minutes. Click:  
http://www.elca.org/Our-Work/Congregations-and-Synods/Faith-Practices/Spiritual-Renewal/Assessment-Tools?_ga=2.139637425.365986587.1528394314-1897836651.1527708282
If you are uncomfortable with the internet or do not have access to it,  call or come by the church office to schedule a time to come in for access or assistance.
Please follow these simple instructions for our congregation:
From this Whole-Life Stewardship page, click link above to go to the Spiritual Gifts Assessment.  You will be redirected to the ELCA website. elca.org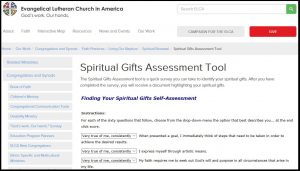 2. Choose from the drop-down-menu the option that best describes you for each question.
3. Click SCORE after you've answered all questions (takes about 7 minutes).  A new window will open displaying a bar line graph of your assessment.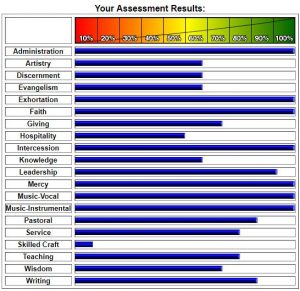 4. SAVE OR PRINT this graph! You will need it as a reference.
5. Consult the Spiritual Gift Glossary in the Whole-Life Stewardship Guide to better understand your spiritual gift (each individual will receive from church).
If you would like to discuss your results further, please reach out to the Director of Community Life, the ministry staff, any church council member,  or a LEAD team member for direction.
6. Complete the My Spiritual Gifts Assessment Sheet found in the Whole-Life Stewardship Guide.